installation program for the AutoVIEW car library
In my younger years I coded a installation routine for the AutoVIEW car library. This is a library of nearly 5000 cars by now that is used for several purposes, such as accident reconstruction. I wrote a installation program which is easily configurable by using some tools described below. The first point in the installation program itself is the language selection. By clicking the correct language the language file is loaded immediately. Now here are the tools for use with the AutoVIEW Installer:
The KeyViewer is a tool that changes the installation key, encrypts it and saves it to the hard disk to be burned to CD. It fully integrates into the Windows Explorer user interface.
The ArchiveViewer is used to verify the compressed archives containing the car drawings. It's a list of all compressed files contained in the encrypted installation archives and shows a summary of all important data. An older version of the installation program used the Windows™-buildtin compression and was replaced in a newer one to reduce header overspan.
The AutoVIEW Configurator is used to create a full or partially installation disk. It's possible to change installation keys like using the KeyViewer, to add more languages or even remove them, to add or remove file types to be installed (which could get important in the near future when files get too much to fit on a CD to prevent the use of DVDs). Also the compressed file archives are created with the configurator using a built in compression assistent.
An additional program for use with AutoVIEW is the AutoVIEW Batch Converter for automatically creating all the different file formats.
screenshots of the installer and its tools: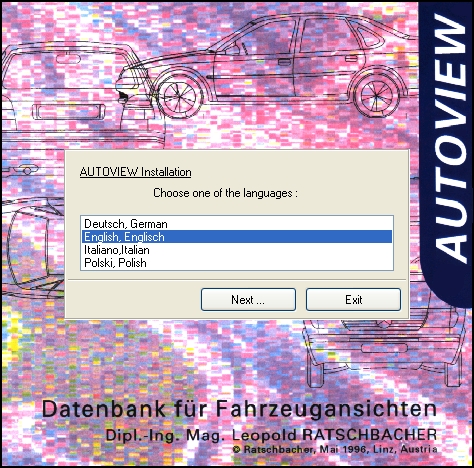 the startup screen
with the language selection.

screenshot startup screen (220.673 bytes)
last update: 2010-11-16 - 19:40:52.
copyright © by Klaus Burgstaller 2009