TVirtualMachines screenshots
Here you'll see some screenshots of the TVirtualMachines component used in a sample application which can also be downloaded on the main page:







running inside VMWare,
the version found is VMWare Workstation

TVirtualMachines inside VMWare (55.797 bytes)
inside Microsoft VirtualPC: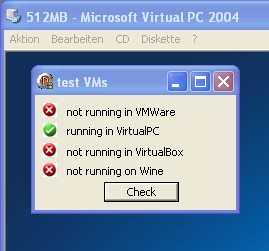 running inside VirtualPC

TVirtualMachines inside Microsoft VirtualPC (36.943 bytes)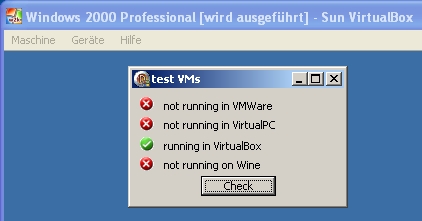 running inside VirtualBox

TVirtualMachines inside Sun VirtualBox (34.762 bytes)







running inside VMWare on Mandriva with Wine.
what would be another simple way to test??

TVirtualMachines inside VMWare with Wine (54.076 bytes)
last update: 2011-09-22 - 22:37:16.
copyright © by Klaus Burgstaller 2009